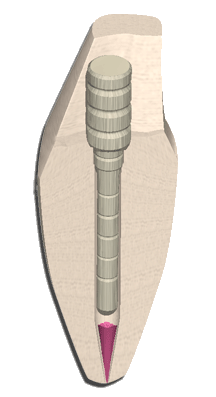 EZ-Fit Fiber
---
The EZ-Fit® post is the most advanced post in its' class. Unlike "dowel" fiber posts, the second tier prevents "bottoming out" which eliminates the high apical stresses under function common to other passive posts. The second tier actually compensates for the natural anatomical flare of the canal for optimum dentin-to-fiber contact, even distribution of stresses and maximum retention. The result is a more intimate and secure dentin-to-cement interface.
The EZ-Fit post head is grooved with undercuts that secure higher retention by locking-in the core material. The grooves of the EZ-Fit shank lock the post into the root providing high post retention.
Strength, Retention, and Stability.
All at a competitive cost to the dentist.
Buy Now
Additional Post products
---
Flexi-Post and Flexi-Flange
Through the incorporation of the patented split shank, the stresses of insertion are absorbed by the post (not the root) during placement.
flexi-post and Flexi-Flange fiber
These are the only fiber posts to provide superior retention and stability without requiring the use of a bonding agent!
Flexi-overdenture
Based upon a patented split-shank post, the ball and socket attachment delivers all the benefits of the Flexi-Post for highest retention of full and partial dentures.
EDS' Accesspost
EDS' AccessPost provides more advantages than any other passive post.