SafeSiders and Endo-Express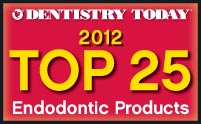 ---
The Endo-Express® Reciprocating Handpiece and the SafeSiders® reamers- Unlike rotary users, Endo-Express reciprocating users don't fear instrument separation or dentin micro-fractures!
As the leader in reciprocation, these instruments are designed with a patented flat to:
- Create more efficient cutting
- Reduces engagement for faster advancement
- Reduces instrument stress improving durability
- Increases instrument flexibility without sacrificing strength.
Finally - replace instruments because they dull and not because you fear they will break!
Customer Testimonials
---
I love the SafeSiders, I have been using this since 2013. I would highly recommend the SafeSiders.
I prefer SafeSiders whole-heartedly.
Rotary files separate VERY easily.
SafeSiders do not.
Beautiful stuff man. I could look at endo all day if it was like that.
David Albertson, DDS -Alaska
I know you will love the system. It really changed my Endo life!!!
Additional Endo Equipment
---
Safesider gutta percha
SafeSiders Deluxe Gutta Percha Point in size medium was made specifically to compliment our Endo-Express/SafeSiders Instrumentation system and work complementary with other endodontic systems. Learn more about SafeSider Deluxe Gutta Percha Points and how to size a point.
Endo Stops
The SafeSiders Endo Stops increase the dentist's ability to predictably maintain proper working length while instrumenting.
Steri-Tracker.
Track and sterilize your instruments with the Steri-Tracker.