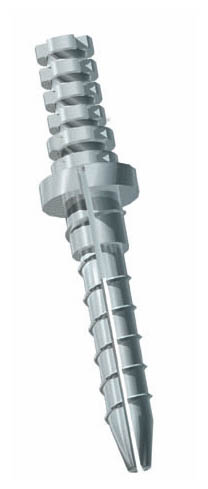 Flexi-Flange
---
Flexi-Flange® utilizes all the benefits of the patented Flexi-Post while incorporating a countersunk flange to provide stability in situations where there is inadequate coronal dentin and excessive occlusal forces.
The Benefits of the Patented Flexi-Flange:
Cuts into dentin rather than pushing it away.

Closes upon insertion to deliver maximum retention with minimal stress. Removes all dentinal debris, enhancing ease of placement.
The head is highly compatible with Ti-Core®, Ti-Core® Natural, other composites, glass ionomers and amalgam. The vertical and horizontal grooves eliminate rotation of core material.
Buy Now
Additional Post products
---
Flexi-Post
Through the incorporation of the patented split shank, the stresses of insertion are absorbed by the post (not the root) during placement.
flexi-post and Flexi-Flange fiber
These are the only fiber posts to provide superior retention and stability without requiring the use of a bonding agent!
Flexi-overdenture
Based upon a patented split-shank post, the ball and socket attachment delivers all the benefits of the Flexi-Post for highest retention of full and partial dentures.
EDS' Accesspost
EDS' AccessPost provides more advantages than any other passive post.